The word "green" is used increasingly frequently in the urban context, especially to describe various forms and structures. While we're all familiar with greenery in the form of parks, playgrounds, squares and urban gardens, we're now seeing more and more green roofs, walls and vertical farms, too – especially in built-up spaces.
The main reason we are losing our green surfaces is the ever-growing need for housing, stores, businesses and manufacturing facilities. The second reason is transportation infrastructure. While our green surfaces slowly disappear and are replaced by buildings, green solutions are already playing a big role in bringing biodiversity to the cities. Now the idea of green transportation infrastructure is starting to spread through the urban dictionary as well.
What to do with all the space between railway or tram tracks, along roadsides and highway belts? It used to seem that the easiest thing to do was just to make them grey. But think again – if we build up the land with concrete, why not simply leave the greenery where it is, where it could still provide us with all the benefits.

What is green transportation infrastructure?
So, we can talk about green transportation infrastructure where the usual ''grey'' surfaces are substituted by green surfaces (meaning filling all the blank spaces between railway and tram tracks, and alongside roads and highways, with greenery), which have the potential to tackle several problems on the same spatial area simultaneously; unlike the usual grey infrastructure, which only serves singular functions like drainage or transport. (EEA, 2015)
---
While single-purpose grey storm water infrastructure – conventional piped drainage and water treatment systems – is designed to move urban storm water away from the built environment, green infrastructure treats and reduces storm water at the source (stormwater management), while delivering tangible environmental, social and economic benefits. (source: https://www.epa.gov/green-infrastructure/what-green-infrastructure, 18.6.2017)
---
Providing multiple functions and benefits that have not only an environmental component, but social and economic components as well, makes the scheme part of the larger green infrastructure concept that is now being included in increasingly more EU policies.
Benefits and purpose of track greening
One part of the solution / concept is educating people about green urban infrastructure, why it matters and, and how it helps improve our living environments.
Another component of the scheme aims to expand green tracking / green transportation infrastructure with live vegetation that will:
improve air quality
increase carbon sequestration
lower temperatures
lower the urban heat island effect
reduce noise (with insulation)
filtrate water running from streets and buildings
improve all-round comfort for residents
create a more natural look
create additional natural habitats, which means greater biodiversity in urban areas
While a lot of people think it is complicated and expensive to restore existing infrastructure back to green infrastructure, it is actually not. This can be achieved with low maintenance green track systems that help enhance emission protection characteristics, are easy to install and are less expensive than conventional grey infrastructure.
At Urbanscape, we think a lot about a greener future, and therefore offer special green infrastructure solutions called Green Designs on the Move™.
Our case: Highway belt in Germany
At Urbanscape, we customise each design to specific projects and specific climate zones. For example, in cooperation with project owner Internationale Geotextil GmbH (Germany) and supplier of sedum mats Sempergreen (Holland), a green belt 9 km long between two highway tracks on A33 motorway close to Bielefeld in Germany was installed. Here the green belt is raised so that the salt doesn't reach the plants and destroy them.
Phase 1: Geotextile and Urbanscape Green Roll placed to gravel base ground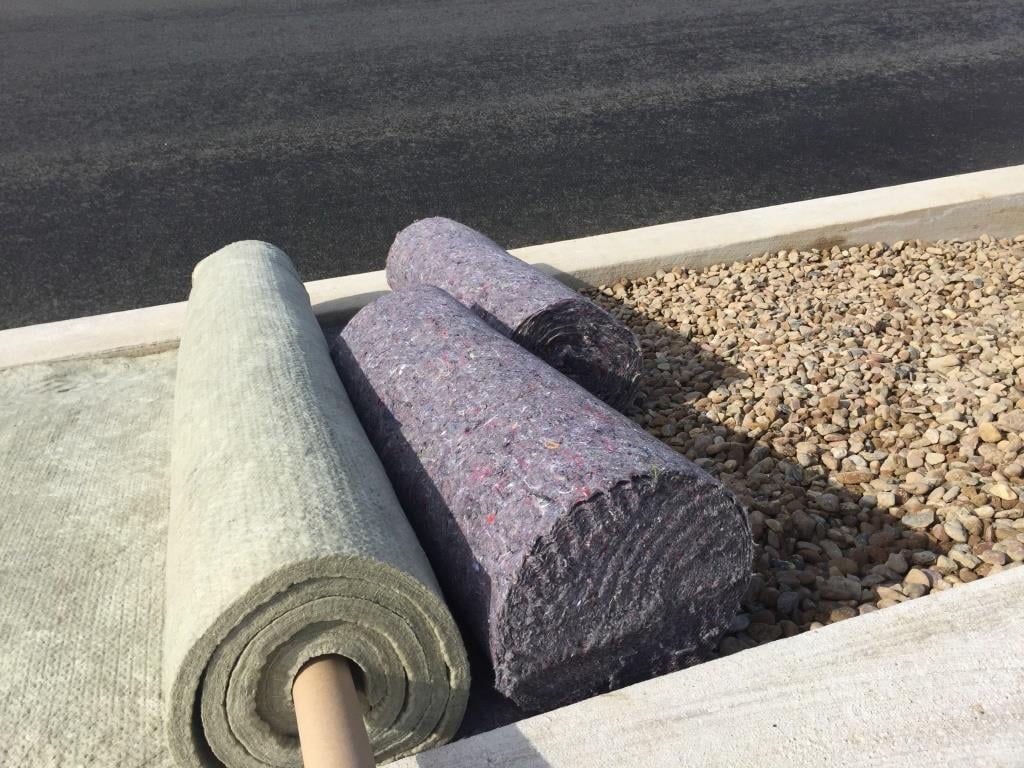 Phase 2: Sedum-Mix Mat by Sempergreen placed on top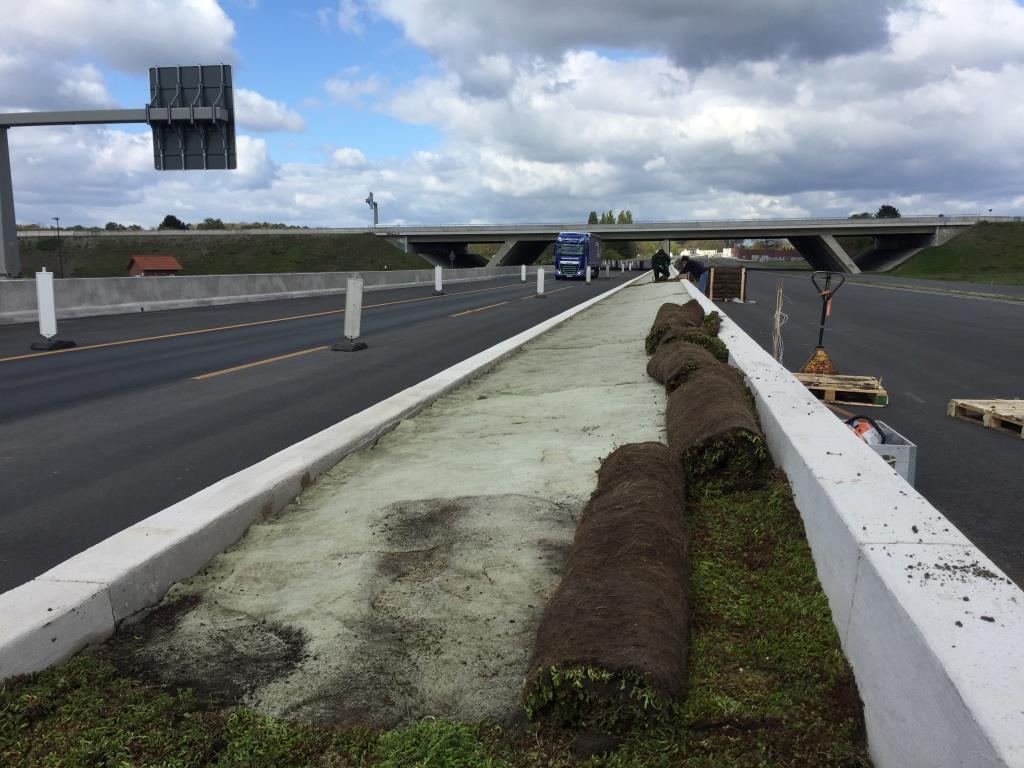 Phase 3: Green belt, 9 km long, finished.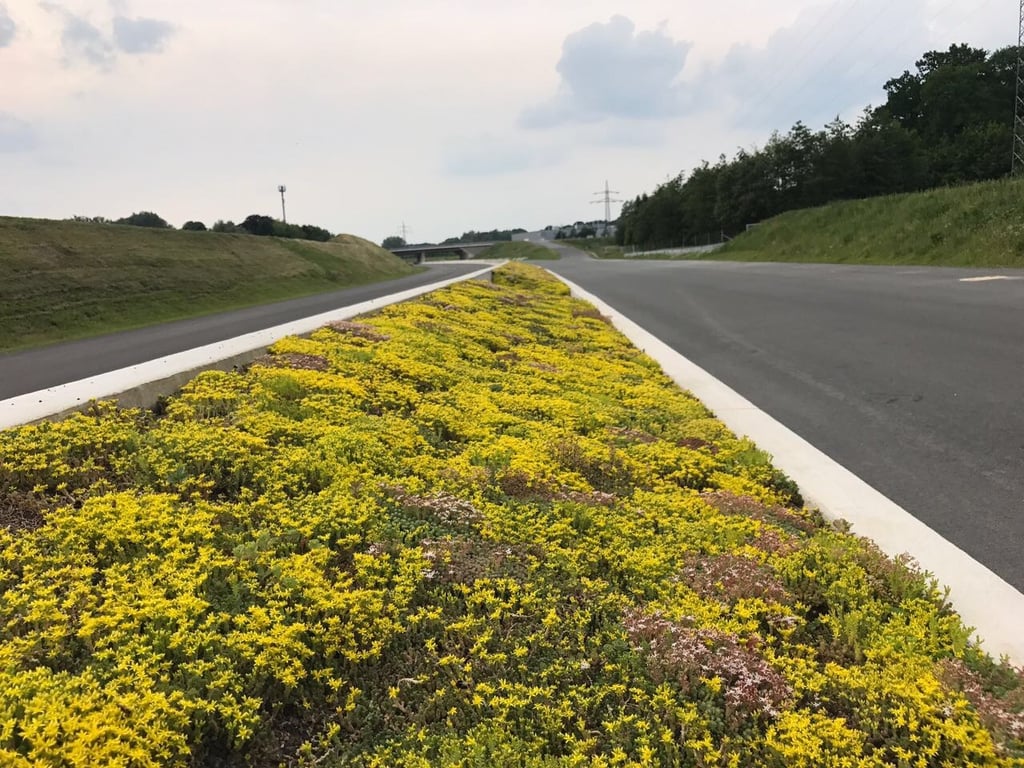 To learn more, check our website, contact us at urbanscape@knaufinsulation.com or simply download some of our conceptual CAD Designs for Highways and Trams / Railways below.