Green roofs and roof gardens date back to thousands of years. But despite the recorded existence of roof gardens, such as one of the seven wonders of the world, the Hanging Gardens of Babylon, perhaps the first example of draping our buildings in flora to make them more appealing, little physical evidence has survived.
In ancient times green roofs consisted of cave like structures or sod roofs covered with earth and plants commonly used for agriculture, dwelling, and ceremonial purposes. These early shelters provided protection from the elements, good insulation during the winter months, and a cool location in the summer. The original inspiration for contemporary green roofs came from Iceland, where sod roofs and walls have been used for hundreds of years. The sod roofs soon became popular throughout Scandinavia. In those cold climates green roofs increased internal heat retention (Norwegians used soil on roofs as insulation, utilizing grasses and other species to hold the soil in place), and in hot climates they offered a kind of relief from the heat and created a "mountain" type of surroundings.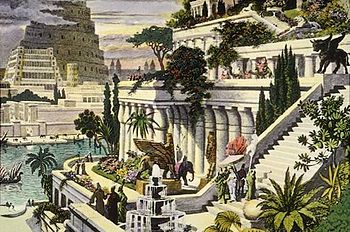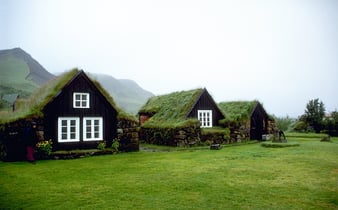 Photo 1: the Hanging Gardens of Babylon Photo 2: Skogar Museum Iceland (Sod Roof)
What about modern-day green roofs?
Unfortunately for modern conveniences, these first types of green roofs were neither waterproof nor was there any system to keep out unwanted burrowing wildlife.
Modern green roofs, which are made of a system of manufactured layers deliberately placed over roofs to support growing medium and vegetation, are a relatively new phenomenon. Unlike former "green roofs" this first approach offered reliable technology that provided sophisticated irrigation and protection against root ingress for rooftop gardens.
Germany is known as the birthplace for modern-day green roof systems. It all started during the oil crisis of the 1970s, when West Germany explored lightweight adaptations of sod roofs for the purpose of energy conservation.
Since then green roofs have been lauded for their many benefits as cost-effective solutions for urban environmental problems and have become quite popular throughout Europe.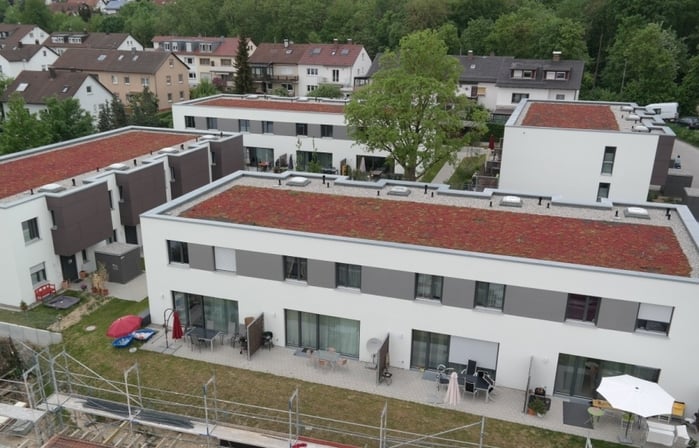 Why would we create a sedum roof (environmental green roof benefits)?
Because of this, a number of European Countries have very active associations promoting green roofs, including Germany, Switzerland, the Netherlands, Norway, Italy, Austria, Hungary, Sweden, the UK, and Greece.
These reasons are also cited again and again by cities in Europe and abroad that are accelerating the installation of green roofs through new laws or financial incentives for green roofs:
Copenhagen (Denmark): green roofs have been mandatory on all new roofs with a pitch under 30 degrees since 2010.
Munich (Germany): the inclusion of vegetation on all flat roofs larger than 330 square feet is mandatory.
Basel (Switzerland): all new and renovated flat roofs must be greened and designed to maximize the biodiversity
Rotterdam (Netherlands): offers a Green Roofs Programme that includes generous financial incentives
Hamburg (Germany): first German city with a comprehensive Green Roof Strategy. The goal is to plant a total of 100 hectares of green roof surface in the metropolitan area in the next decade. The Hamburg Ministry for Environment and Energy is providing financial support for the creation of green roofs to the sum of € 3 million until the end of 2019. Building owners can receive subsidies to cover up to 60% of installation costs.
London (UK): Plan Policy states: "If London is to adapt to the extremes of climate change, living roofs are key. They can keep the city cool while at the same time reducing energy use and carbon dioxide emissions and reduce flood risk by absorbing heavy rainfall." Mayor Boris Johnson has also committed to cover 5% of the capital's roofs by 2030
France: New green roof legislation demands that rooftops on new commercial buildings in France must either be partially covered in plants or solar panels. If approved by the French administrative process it will be the first law of its kind on a national level.
Green roofs are also becoming increasingly popular in the Nord America and South East Asia, although they are still not as common as in some parts of Europe. We also see positive movement in Middle East where United Arab Emirates are leading the way.
Our future therefore looks green...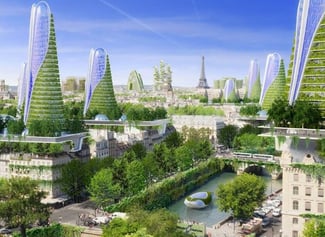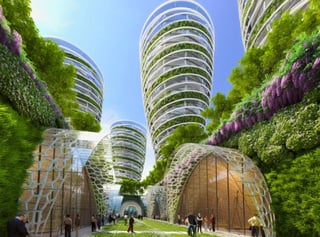 There's no doubt that in the historical sense green roofs were created either because of convenience or to create something aesthetic the owner could enjoy. But in more recent years, architects, builders, and city planners all across the planet have begun turning to green roofs not for their beauty but for their practicality, their ability to mitigate the environmental extremes common on conventional roofs and to create a better place to live for local population.
Or as Stephan Brenneisen once said: "People feel happier in a building where we've given something back to nature."
Think of the millions of m2 of artificial rooftops around the globe. And now imagine returning some of that enormous human footprint to nature — by creating green spaces where there was once only asphalt and gravel. If a certain sum of human happiness is the by-product, who's to complain?
---
Urbanscape Green Roof System is an innovative, lightweight and easy to install system with high water retention capacity designed specifically for green roofs on residential, non-residential and industrial buildings in urban areas. It is a complete system, which consists of a root membrane, a drainage system, a growing media - a unique patented rock mineral wool - and a vegetation layer. The irrigation system shall be provided depending on the local climate conditions.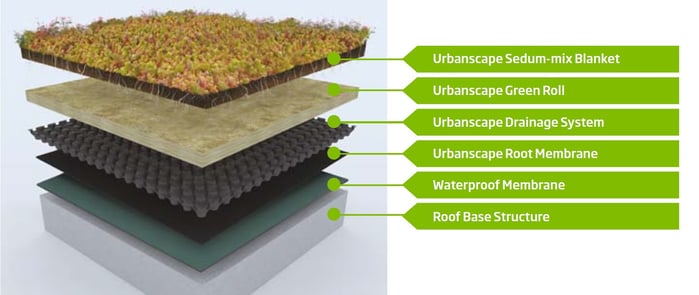 ---
Did we get your attention? Download one of our brochures below or visit our website.
---
Sources: