Research by the National Institute of Biology in Slovenia has revealed how green roofs can help bees and other pollinators to flourish while boosting biodiversity.
From June to September 2019, two Urbanscape Green Roofs were monitored by institute experts who measured roofs' pollinator appeal daily.1
Danilo Bevk, PhD, who led the research, said: "During our study more than 1,270 pollinators were counted and in the summer the density reached a high of up to 11 per square metre. "Contrary to our expectations, wild bees — solitary bees that are particularly effective pollinators — were more numerous than honey bees. We found 10 different species of wild bees on the two roofs and wild bees are like honey bees vital for crop pollination."
Bee numbers in decline
By carrying pollen from plant to plant, pollinators are critical to safeguarding biodiversity and conserving eco-systems. They also play a vital role in agriculture — pollinators are instrumental in 35% of global crop production.
---
"Clearly a thriving green roof is a more appealing habitat to pollinators than a grey lifeless concrete version."
Jure Šumi, Business Development Director, Knauf Insulation Green Solutions
---
Unfortunately, pollinators are under threat from increasingly frequent extreme weather events, pesticides, disease and especially from the changes in land use linked to intensive farming and aggressive dense urbanisation. Depressingly, studies show the chances of finding a bee in Europe or the US has now declined by a third since the 1970s.

So, what can be done to reverse the situation?
Jure Šumi, Business Development Director, Knauf Insulation Green Solutions, is clear. "We can start by encouraging towns and cities to be ambitious when it comes to integrating more green infrastructure into their urban environments. Clearly a thriving green roof is a more appealing habitat to pollinators than a grey lifeless concrete version."
Increasing development of urban environments puts pressure on green spaces with potential negative impacts on biodiversity and ecosystem services, says Danilo Bevk. There is growing evidence that green roofs can contribute, mitigating the loss of urban green spaces by providing new habitats for numerous arthropod species.2 Ultimately, more green roofs mean more pollinators which translates into more biodiversity.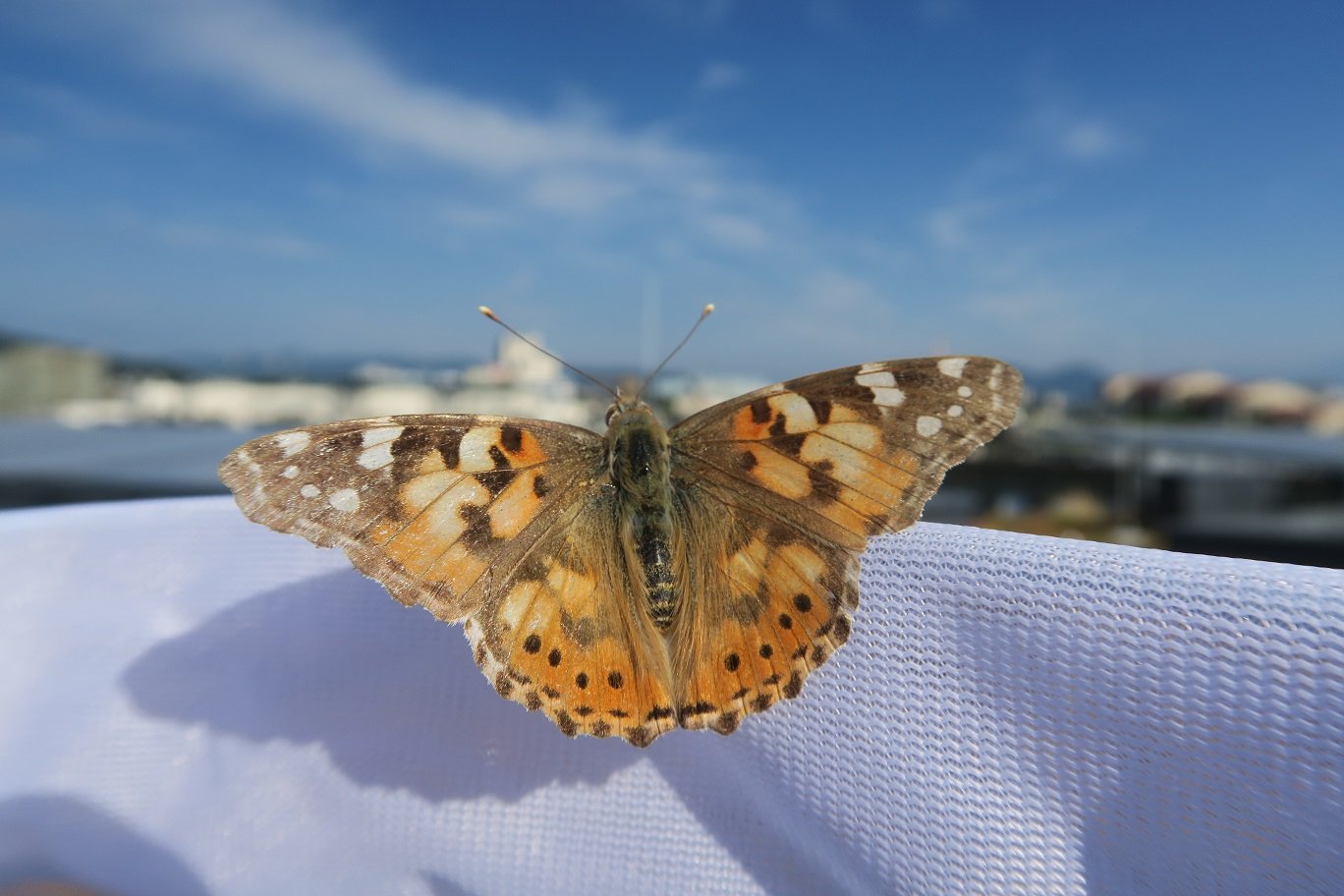 In the UK, studies have found that the variety of bee species is richer in urban areas than farmland. Urban areas are growing, and improving their value for pollinators should be part of any national strategy to conserve and restore pollinators.3
Green roofs boost biodiversity
The Slovenia research monitored two Urbanscape Green roofs. One was on the Knauf Insulation Experience Center at Škofja Loka and the other on a building in Ljubljana. The range of pollinators were found to include honey bees, wild bees as well as hoverflies and butterflies.
Green roofs provide important food sources for pollinators, particularly if they flower in the summer and during dry periods. This is hugely important for urban beekeeping and vital to endangered species particularly wild bees.
Green roofs also act as a refuge for pollinators, allowing them to move within urban areas connecting networks of parks and gardens to the countryside.
Semi-natural areas and green infrastructure elements are even more important under changing temperature conditions to mitigate the negative impact of increasing temperatures on the abundance and richness of wild bee species.
This factor has important implications for conservation decision making, suggesting that maintaining or restoring a fair amount of semi-natural areas could serve as a countermeasure against climate change for wild bees.4
Biodiversity benefits can add up to billions
"The financial benefits of pollinators cannot be underestimated. They are key to the production of much of our food," said Jure. "The net worth of the insect pollination is estimated to be around 10% of total worth of agricultural production. That adds up to around €153 billion globally and up to €22 billion in Europe every year."
"Biodiversity and the role of green infrastructure is also at the heart of the European Commission's ambitious Green Deal. The proposals aim to make Europe the world's first climate-neutral continent by 2050. Green roofs are part of bigger picture. Planners must see as an opportunity for the benefit of everyone, as well as bees."
Notes:
1 Pollinators' activity was monitored using methods that have been developed during earlier studies and optimized for green roofs. Pollinators' activity was monitored for two hours daily between 8am and 11am from June to September 2019. The number of pollinators was determined by counting at five sampling sites. Ten counts per hour per site were carried out — adding up to 20 per sampling site or 100 across five per day from June to September. Honey bees, bumble bees, solitary bees, hoverflies, butterflies and other insects were counted. Pollinators' activity was monitored only in sunny weather when pollinators are most active. At the end of each monitoring, specimen samples were caught for identification.
2 Braaker et al., 2017
3 Baldock et al., 2015
4 Papanikolaou et al., 2017
Pictures: Wild pollinators exploring our Urbanscape Green Roof - Danilo Bevk, National Institute of Biology
---
How do Urbanscape Green Roofs look and feel?
Order our Demo Sample and find out more.