Buildings are a complex matter when it comes to their relationship to the people and environment they are in contact with. They include a wide range of materials in their construction and use various resources to serve our needs and eventually, they will need to be torn down and the remaining materials disposed of responsibly, which gives them a complicated life. In today's world, we are becoming more and more aware of the need to build more sustainable. The question is how to go about pursuing the goal of building green in a well-informed way that accounts for the most significant factors?
What are Green Buildings Anyway?
According to the World Green Building Council (2022), a green building is a building that, in its design, construction or operation, reduces or eliminates negative impacts, and can create positive impacts on our climate and the natural environment. Green buildings also aspire to preserve precious natural resources and improve our quality of life for their users. This can apply to any sort of building – a family home, a hospital, an office building, etc. – provided that it satisfies the assigned criteria. The criteria mostly revolve around the building's use of energy, resources, materials, overall quality and ethical standards that a building must adhere to. Importantly, due to different climatic conditions and contexts encountered worldwide, it would be counterproductive to use the same standards in all environments, which is why different systems have evolved to be implemented in different scenarios.
What are Green Building Rating Systems?
A definition proposed by Marchi et al. states that Green Building Rating Systems (GBRSs) are typically third-party, voluntary, and market-driven standards that measure buildings' sustainability level by multi-criteria assessment, and encourage the adoption of environmentally, socially and economically sustainable practices in design, construction and operation of buildings (or neighbourhoods). But in practical terms - what do GBRS even track? Their primary objective is to provide a comprehensive assessment of the environmental performance of buildings, thus limiting the negative impact on the environment. This is done through monitoring energy use, water use, material use, waste and pollution, the site's land use and ecology, as well as considering the building occupants' health and well-being by looking at indoor environment quality, and can also include reducing operational costs (Alwisy et al., 2018, Marchi et al., 2021). Studies investigating the effect using the rating tool criteria find that in some cases, they can result in up to 40% savings in the annual energy consumption (Alwisy et al., 2018). This means the use of GBRS can help make buildings more pleasant and more sustainable, as well as more economical.

The most common indicator groups found to be included in GBRS are, according to a comparative study done by Braulio-Gonzalo et al., (2022); comfort, energy, environmental awareness, materials, natural resources and climate change, waste and water. In their study, they have found that these aspects are not equally covered in the evaluation, with some being more common and taking on a more prominent role. On average, the proportion of indicators used by GBRS for each aspect is 28.5% to comfort and the user's well-being, 27.9% for natural resources and climate change, 12.3% for energy, 10.9% for materials, 8.5% to water, 6.9% to waste and 5% to environmental awareness (Braulio-Gonzalo et al., 2022).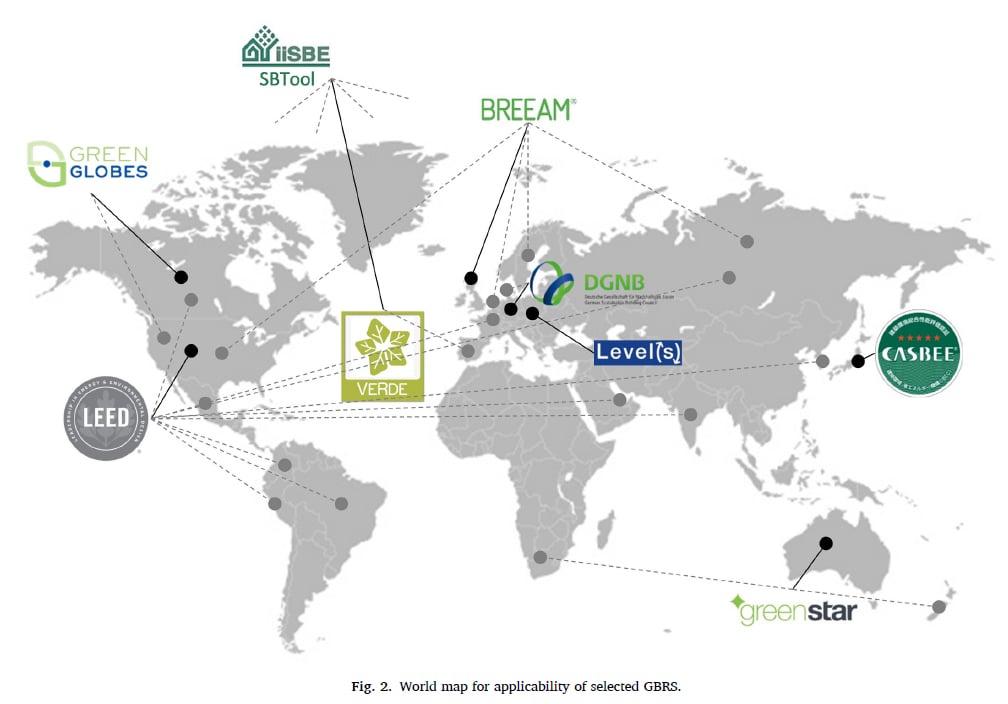 World map for applicability of selected GBRS tools. (Braulio-Gonzalo et al, 2022


The origin and application of specific GBRS tools
Green Building Rating Systems have over thirty years of history at this point. The first commercially available system of this kind was developed in the United Kingdom in 1990 and was called the Building Research Establishment Environmental Assessment Method (BREEAM). The system remains in use today. From that point, the interest in rating systems has grown to the point where we now have 382 registered software tools available for assessing the energy efficiency, renewable energy, and energy performance of buildings (Alwisy et al., 2018).

LEED, BREEAM, CASBEE, Green Star and Green Globes are the oldest GBRS in the market and have already been widely implemented around the world, both internationally and regionally. Other GBRS was developed to be used in specific countries to better address the particular needs of those environments, but have later been found to be appropriate for other, similar environments, and were subsequently adopted. For example - Green Star, originating in Australia, was later on adapted to be used in South Africa, Brazil and Chile. LEED was originally developed for the US but is also applicable in many countries in South America, such as Mexico, Colombia and Peru. DGNB emerged in Germany and has now been used in countries, such as Austria, Switzerland, Denmark and Spain. The tool VERDE has been adapted to Spain but originates from the SBTool, which was created with the idea of providing a generic tool to be adapted to the context-specificities of the corresponding region. Originating at a later date, Level(s) was developed by the European Commission. It uses a reduced number of indicators, but with maximum leverage to deliver sustainability, and is intended to be widely applicable internationally (Braulio-Gonzalo et al., 2022).
What GBRS tools to use?
Existing green building rating systems vary greatly from one another and before choosing the right one for your case, various factors must be taken into account. It is important to consider the phase of a building's life cycle, the building type (e.g., commercial versus residential), and the desired approach to take, namely a globally- versus locally-based approach (Alwisy et al., 2018).
The environmental dimension that covers the areas of user comfort, natural resources, climate change and energy use is well covered by most of the tools in use. However, social and economic dimensions might also be of interest to a particular project type. For example, CASBEE and Green Star do not include any economic indicators, but they can be found in the case of Level(s) where they represent 13.64% of the evaluation weight and includes an indicator incorporating the life cycle costing assessment. The social dimension is integrated with more emphasis in DGNB, VERDE and CASBEE. In terms of project stage interest, GBRS have been generally found to focus more on the design stage of building design, but less on the End-of-Life stage of a building. This is why it can be useful to combine GBRS with LCA tools that include that stage in more detail (Braulio-Gonzalo et al., 2022). As explained by the European Environment Agency, the Life-cycle assessment (LCA) is a process of evaluating the effects that a product has on the environment over the entire period of its life. This is why LCA is commonly referred to as a "cradle-to-grave" analysis. It means it also takes an interest in what happens to the materials and resources after a building is no longer being used, how they can be disposed of or recycled after its active period is at an end. However, the LCA methodology is mostly used when the building is already constructed and there is no room for improvement, while GBRS emphasises the improvements and advantages of the design decisions. Additionally, LCA focuses on a global or regional context but does not include the impact of a new building in a neighbourhood or community context, which is considered in GBRS (Braulio-Gonzalo et al., 2022). Therefore, the main advantage of GBRS is that they can help guide the building's defining design stage to ensure our buildings can have lower impacts throughout their lifetimes, which is why their use can truly be a game-changer on the path to building greener.


At Knauf Insulation we produce highly sustainable solutions (including Urbanscape® Green Solutions) that create better buildings. We offer downloadable factsheets that reveal precisely how these solutions earn points for specifiers of various Green Building Rating Systems (GBRS) — BREEAM, LEEDv4, DGNB and WELL.
You can also check and download our new "2022 Annual Review", which showcases Knauf Insulation's achievements in a year of challenges here.
Sources:
World Green Building Council (2022).

https://www.worldgbc.org/what-green-building

Braulio-Gonzalo, Marta; Jorge-Ortiz, Andrea; Bovea, María D. (2022). How are indicators in Green Building Rating Systems addressing sustainability dimensions and life cycle frameworks in residential buildings? Environmental Impact Assessment Review 95, 106793

Marchi, Lia; Antonini, Ernesto; Politi, Stefano (2021). Green Building Rating Systems (GBRSs) Encyclopedia 2021, 1(4), 998-1009;

https://doi.org/10.3390/encyclopedia1040076

Alwisy, Aladdin; BuHamdan, Samer; Gül, Mustafa (2018). Criteria-based ranking of green building design factors according to leading rating systems. Energy and Buildings, Volume 178, Pages 347-359

European Environment Agency (2022).

https://www.eea.europa.eu/help/glossary/eea-glossary/life-cycle-assessment