It's not surprising that green roofs are becoming more and more popular as a design tool of many forward-thinking architects, keeping buildings cool in the summer and warm and cozy in the winter. They are also beneficial when it comes to reducing the urban heat island effect that occurs because of traditional black roofs in cities, making them overheat and radiate into their surroundings. Furthermore, they act as artificial habitats for various small animals and insects. Many states and cities have now made them mandatory or give financial assistance to help promote green roofs in all new developments. (1)
To understand why they are becoming ever more important as an integral part of contemporary architecture, we must first look into the inner workings of green roofs.
In the second part of this article, we will present examples of good practice that have been widely approved by both the architectural community and the users that encounter them in daily life.
WHAT COUNTS AS A GREEN OR LIVING ROOF?
To clarify what can be described as a living roof, we need to look at their characteristics and the intentions of use. To put in the simplest of terms, a green or living roof is a roof surface that is partially or completely covered with vegetation and a growing medium, planted over a waterproofing layer. Additional layers may also consist of a root barrier, drainage and irrigation systems. This definition does not usually include rooftop container gardens where plants are maintained in pots due to the fact that the vegetation layer is not truly a an integral part of the roof construction in that particular case. (2)
THE HISTORY OF LIVING ROOFS IN ARCHITECTURE
When it comes to the history of living roofs, most people think of the hanging gardens of Babylon first. As mentioned before, it does involve green elements as a part of the architectural scheme, but can not really be considered to represent a forebearer of the true living roof. To find the real birthplace of living roofs, we need to look at sod roofs – a building practice that goes back millenia, particularly in colder climates.
In prehistoric times, sod roofs were initially used on simple mound-like shelter dwellings, mimicking natural caves. They were later used for centuries to moderate the cold winters and sometimes very hot summers throughout Scandinavia and beyond by the ever venturing Vikings, becoming quite prevalent in the middle ages right up until the late 19. century. (2)
One of the most important champions of the green roof movement in modern architecture is the father of modernism himself – the Swiss-French architect Le Corbusier. As explained by researchers on the topic at the University of Salerno, the roof-garden is not just one of the famous five points of a new architecture – the massively influential theoretical work written by Le Corbusier, but a totally new and fundamental spatial topic that explores the relationship between architecture and nature. (3)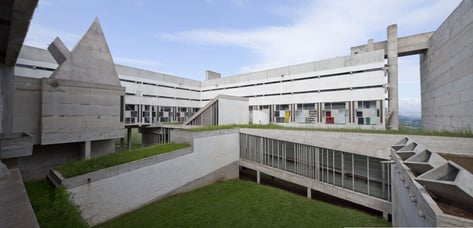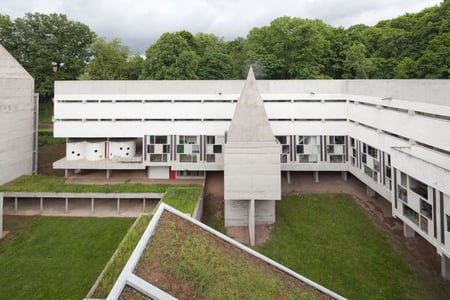 Photos: Le Corbusier La Tourette monastery © photo by Montese Zamorano 01, 02
WHAT MOTIVATES ARCHITECTS TO USE GREEN ROOFS?
Besides the aesthetic benefits of green roofs, architects have much more important responsibilities to uphold when designing buildings for the modern world. Contemporary architecture must be economical, healthy, ecologically benevolent and highly functional while providing a good environment for social interaction and personal wellbeing to all users.
Based in Malaysia, eco-architect Ken Yeang of Hamzah & Yeang has been working to integrate ecology into architecture for decades and was named one of the 50 people who could save the planet by The Guardian. He advocates for living architecture practices to redesign a our built environment into human-made ecosystems that seamlessly integrate with the planet's biogeochemical cycles. (4)
Yeang goes about this in his own practice by asking clients to budget 10 to 15 per cent over industry's standard construction costs for that building type to make the building green, while stressing that the energy and water savings had been calculated to even out with the initial extra costs after only five to eight years. After this period expires, his buildings continue save money and resources. For architects and their clients, building green makes architecture it both more economical and eco-friendly in the long run. (4)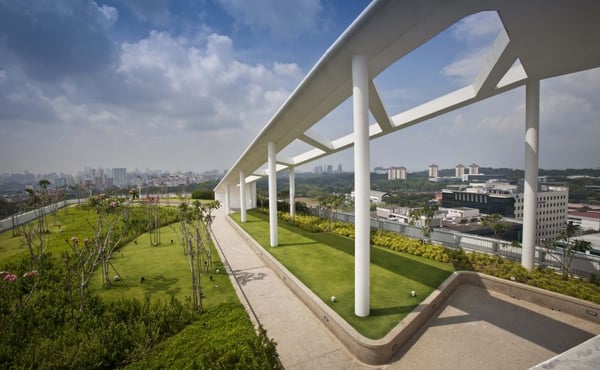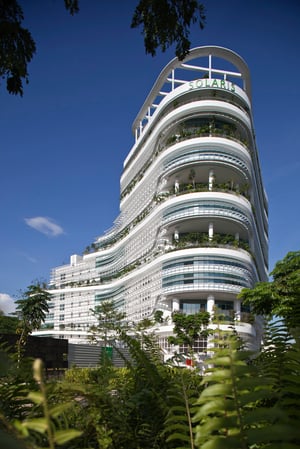 Photos: TR Hamzah & Yeang_Solaris Tower © photo by Albert Lim 01, 02
Architects are also driven by the desire to provide well-being to the people inhabiting the spaces they design. For instance, green roofs can do great things to enhance the patient experience in healthcare facilities – referred to as "Healing Gardens" they have been observed to improve patient outcomes and positively affect the working conditions of employees. Rooms overlooking green roofs are also in high demand (5)
The vegetative roof on the Mercy-West Hospital provides a great example of implementing a green roof to support horticultural therapy. It was designed by landscape architect Meisner Associates of Cincinnati in conjunction with lead architect AECOM of Minneapolis. The system features over 65,000 plants of various native species. The green roof is mostly semi intensive, mimicking the rolling prairies of Ohio. It features a therapy terrace for rehabilitation where patients practice walking on different substrates to improve their balance. (5)
NATIVE OR NON-NATIVE PLANTS – THE DEBATE GOES ON
When it comes to designing a green roof, the question of the plants will be used in the vegetation layer does not have as much of a straightforward answer as you might have expected.
As explained by researchers at the Tufts University, Department of Biology, assuming that native plants are better adapted does not always hold up to scientific scrutiny - simply transplanting ground level landscaping to the roof ignores the fact that a rooftop is a fundamentally different environment than the ground, displaying different wind conditions, temperatures, attracting different animal species, etc. This is the argument mostly taken up by engineers. However, many architects, landscape architects and biologists still argue that native species provide greater environmental benefit, and are more aesthetically pleasing than non-native plants. (6)
WHY NOT USE GREEN ROOFS EVERYWHERE?
Even though various types of green roofs can be used in just about any area or climate with benefits to the environment and human well-being, the clients tend to be sceptical when being presented with the idea of a green roof on their building. The reasons are usually connected with the lack of information and good counselling about the right type of green roof for the specific area or use.
That is why we urge architects and city planners to educate themselves in the area of green infrastructure. We provide ample information on the Urbanscape® Green Roofs product line and their benefits on our website that can be accessed on the link https://www.urbanscape-architecture.com/solutions/ or in our Urban Smart Magazine which can be downloaded here:
---
All our Urbanscape® CAD details, drawings and evaluation tools can also be requested here:
https://www.urbanscape-architecture.com/tools-documents/
---
Examples of good practice of green roofs in architecture
(1) Renzo Piano: California Academy of Sciences (photos by Tim Griffith)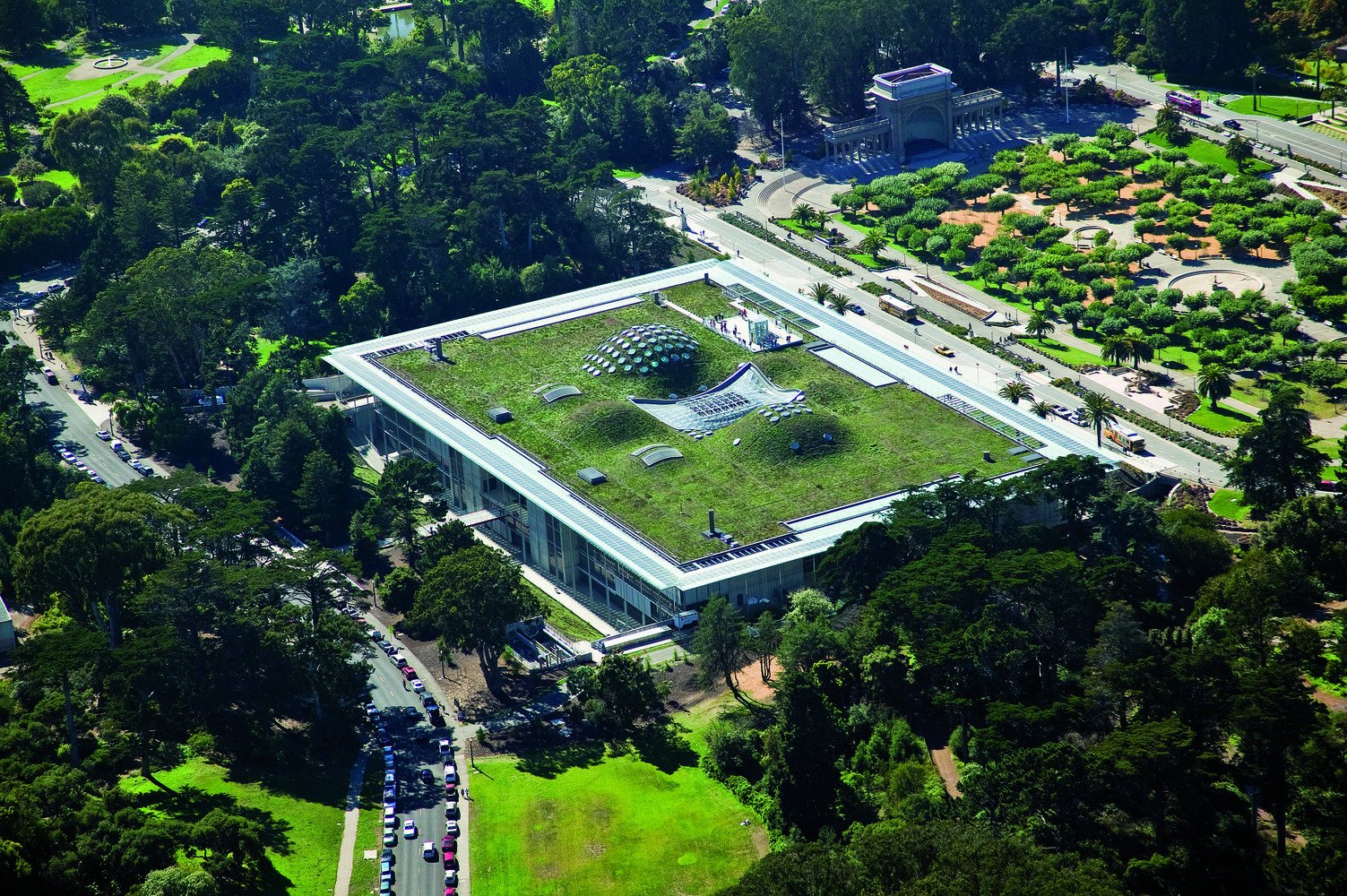 (2) Studio Marco Vermeulen: Biesbosch Museum Island (photos by Ronald Tilleman)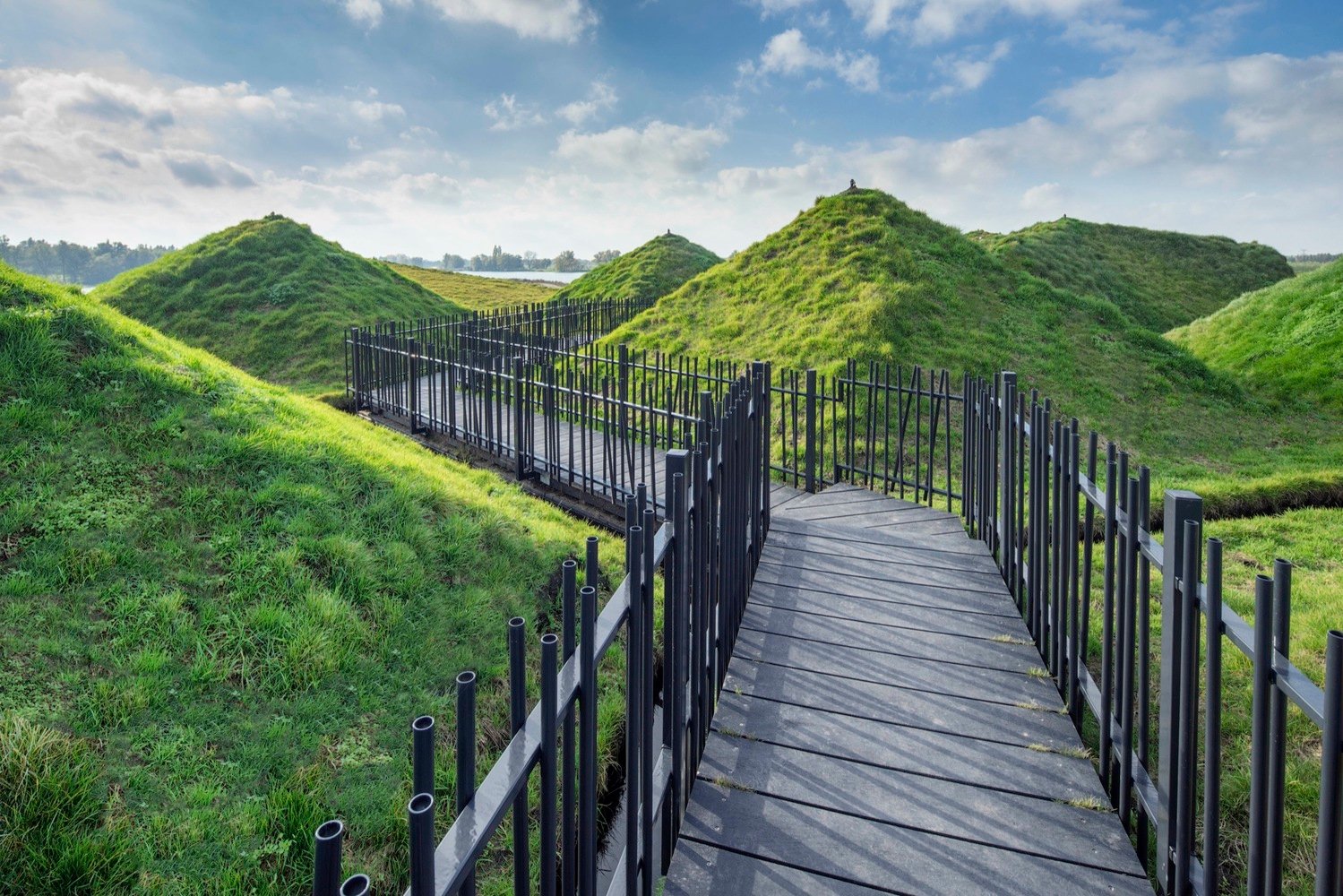 (3) f451 Arquitectura: Senior Citizen Community Center (photos by Jose Hevia)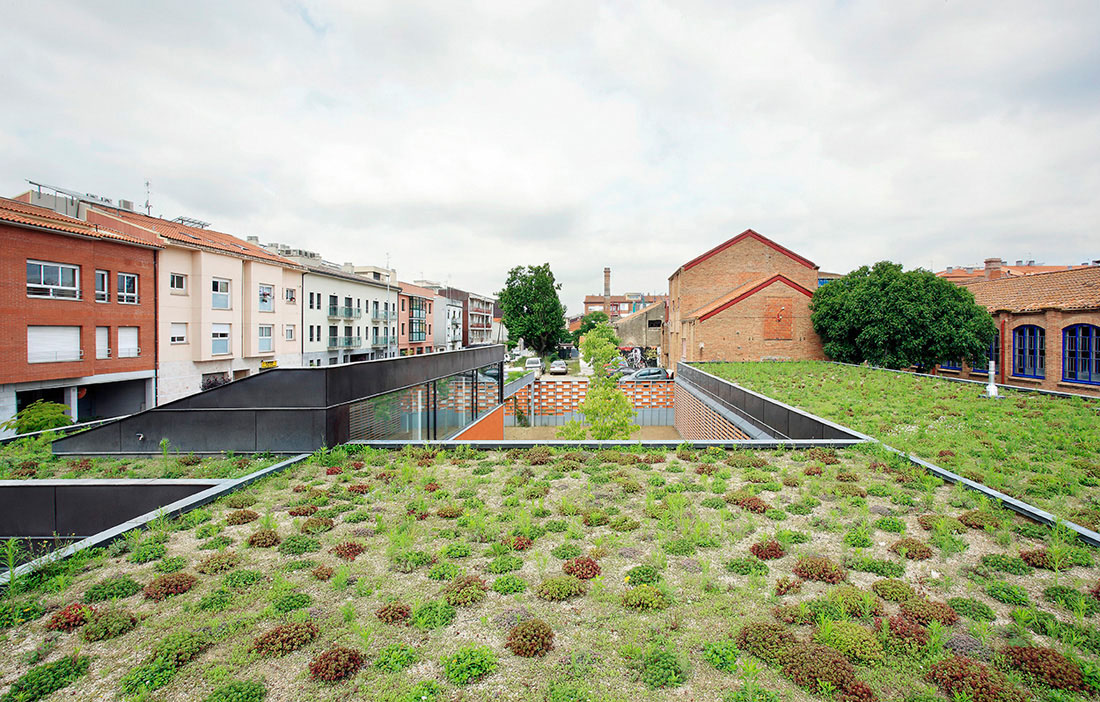 (4) BIG: 8 House in Copenhagen (photos by Julien Lanoo)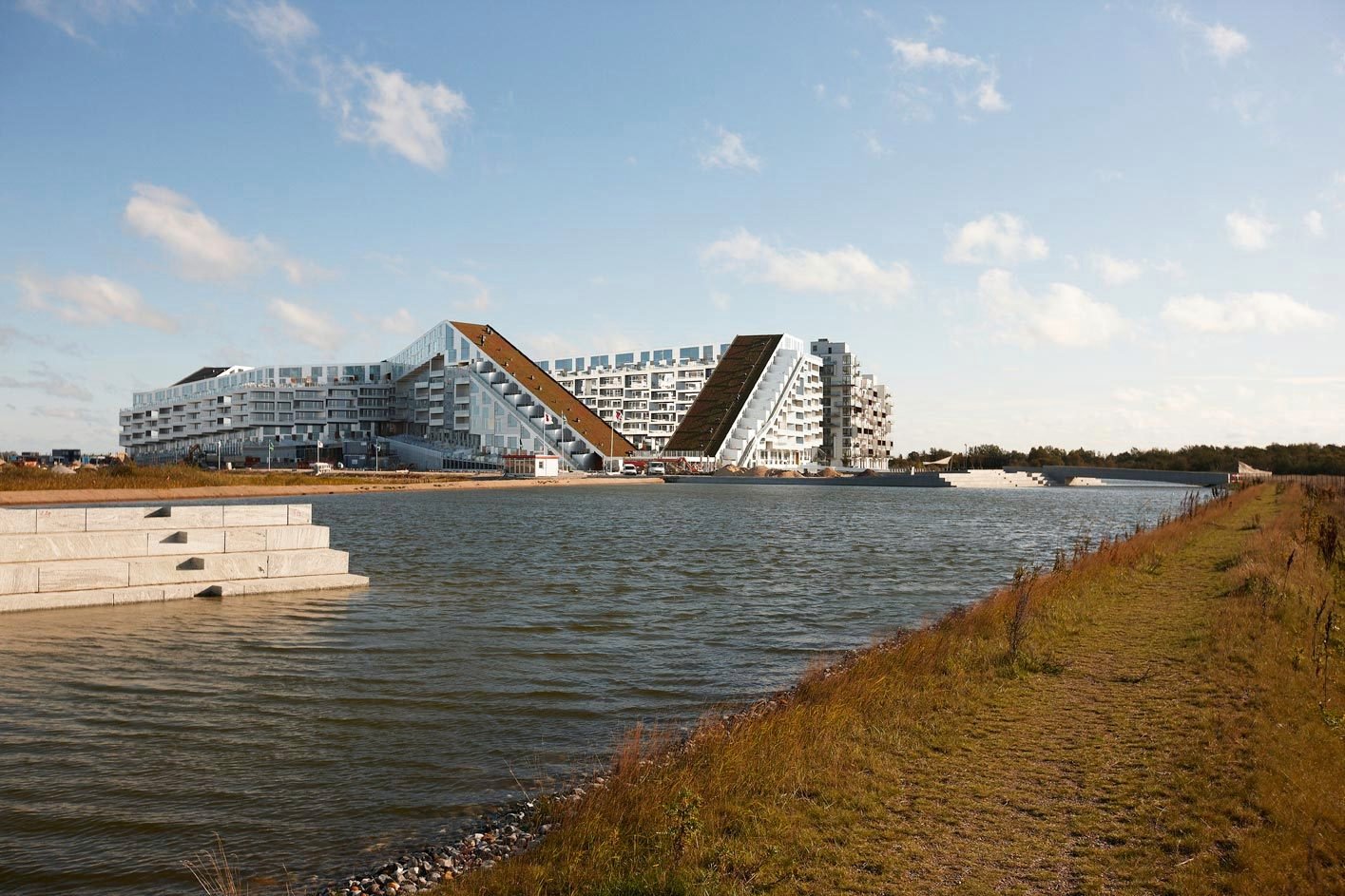 (5) Rural Design Architects: Turf House (photos by Nigel Rigden)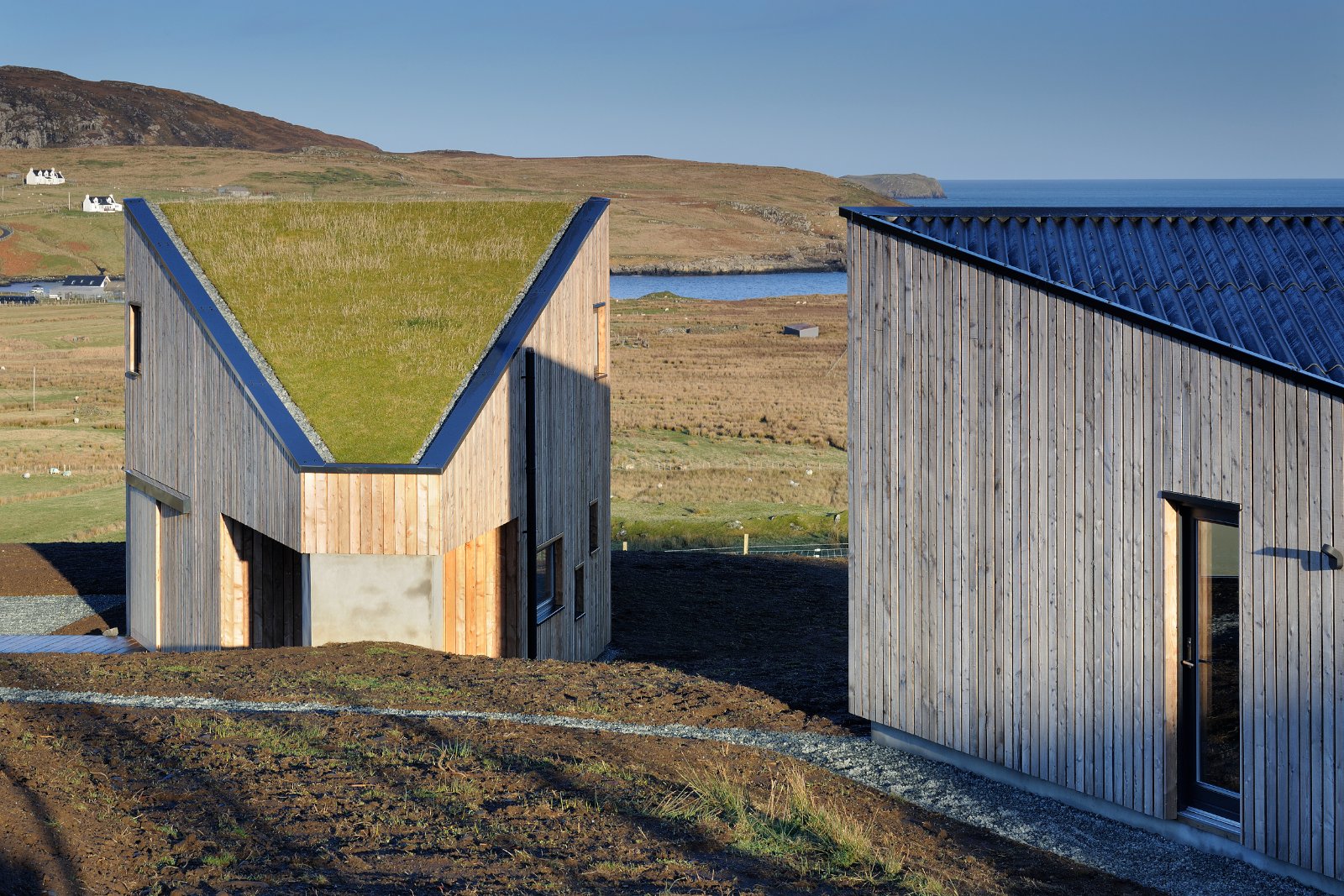 (6) Feldman Architecture: Mill Valley Cabins (photos by Joe Fletcher)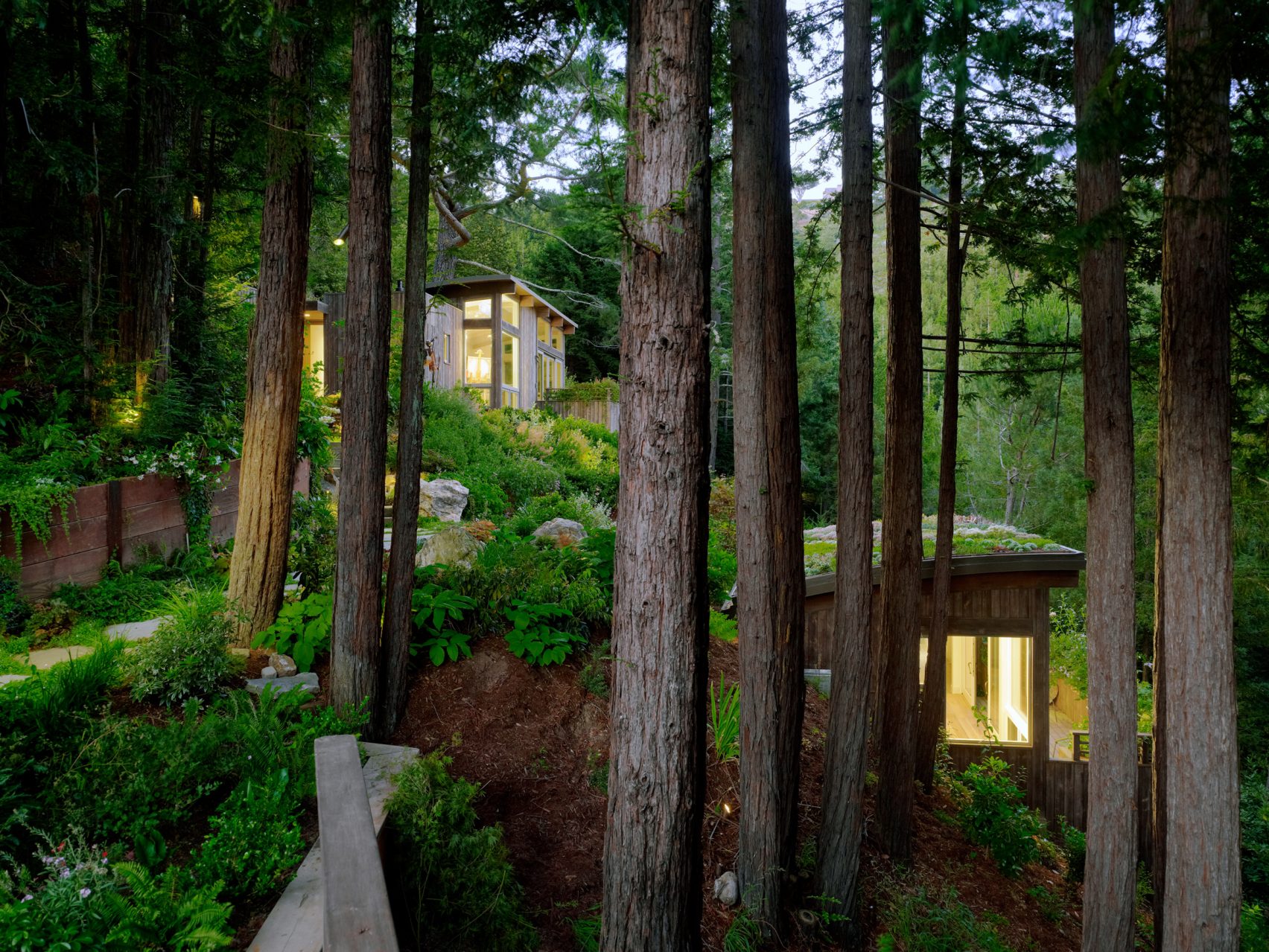 Blog author: Ana Belčič, M. Arch. - Studio MIAO
---
Source (1): Lloyd Alter: Green Roofs Are Changing the Way Architects Design Buildings https://inhabitat.com/green-roofs-are-changing-the-way-architects-design-buildings/?variation=b
Source (2): https://en.wikipedia.org/wiki/Green_roof
Source (3): A. Como, I. Forni, L. Smeragliuolo Perrotta - Le Corbusier Roof Spaces - University of Salerno, Italy
Source (4): Living Architecture Monitor – Volume 20, Issue 4, Winter 2018, page 8 http://www.nxtbook.com/dawson/greenroofs/lam_2018winter/index.php#/6
Source (5): Living Architecture Monitor – Volume 20, Issue 4, Winter 2018, page 21 http://www.nxtbook.com/dawson/greenroofs/lam_2018winter/index.php#/6
Source (6): Colleen Butler, Erin Butler, Colin M. Orians - Native plant enthusiasm reaches new heights: Perceptions, evidence, and the future of green roofs - Tufts University, Department of Biology, USA